This year will be exciting for home designers and people who follow the latest decor and interior design trends. With the pandemic fundamentally altering the way we work and how we design our homes, the focus of in-home design has significantly changed. Now more than ever, homeowners are looking toward creating sustainable spaces that are both comforting and functional. There is a higher value on physical and mental wellness, impacting how we decide on designs and decor.


In the seaside community of Marina del Rey, people are integrating indoor and outdoor spaces to invite the sunshine and nature indoors. Even though people might be working from home and in remote offices, that doesn't mean we should sit inside all day. And with earth tones becoming popular, many homeowners are instilling the seascape vibe into their interiors. Keep reading to learn more about popular trends in the area and what to look out for.
Creative home offices
Now that people are working from home more than ever, home offices are essential. Most of the rising interior design trends revolve around creating an inviting and stimulating space where people can work from home in comfort. Expect to see more creative offices. The beautiful California sunshine strongly motivates people to integrate the outdoors into everyday living.


Working in enclosed, lightless rooms is quickly becoming lost to the past as people look to create more hybrid rooms within their homes. Apart from having a desk that does it all and emphasizing comfort and space, homeowners want a place to relax and decompress while they're on a break. And so, we can expect to see the addition of comfortable couches and meditative corners inside workspaces.
Elevated outdoor spaces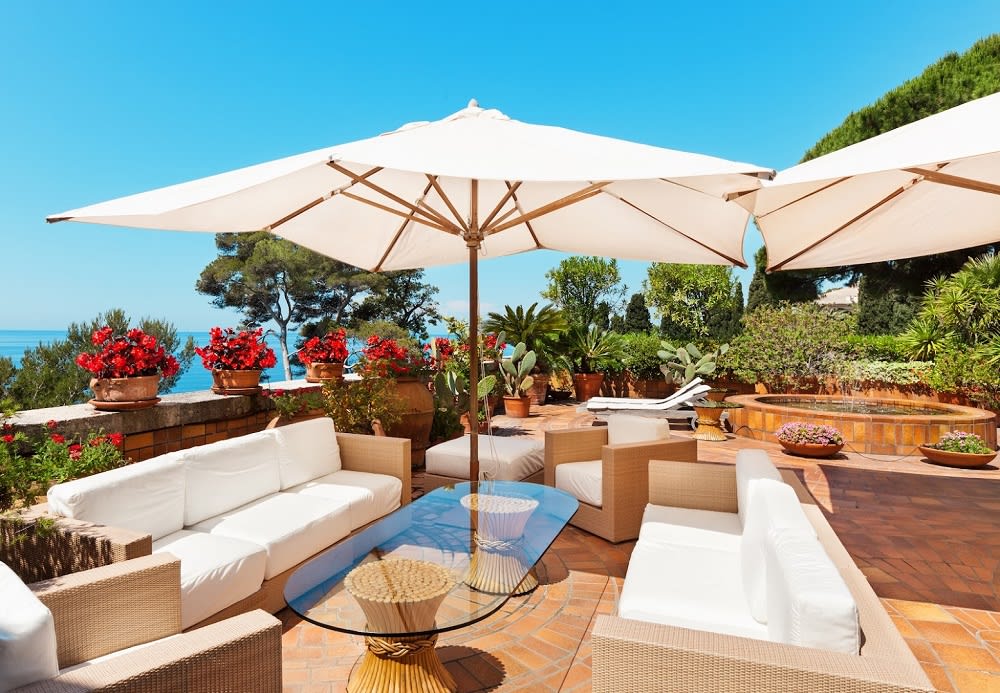 People spend more time outdoors, and they want to create
sophisticated outdoor spaces
filled with high-end furniture. Patios are becoming an extension of interior decor, with earthy tones, flowers, and lush greenery.
Biophilic design
has become popular over the last few years, and it will continue to be a trend. Many homeowners have cultivated a passion for gardening and propagating homegrown plants.
People want to entertain guests in stunning, high-end outdoor spaces, including raised decks, stylish hardscaping, and manicured landscaping. Considering how gorgeous the weather is in Marina del Rey, it's not surprising that homeowners want to soak up the sunshine whenever possible. If you're investing money in creating a relaxing backyard oasis, surely you want to spend as much time in it as you can?
Earth tones are in
Various shades of browns, chic chocolate hues, and soothing greens are becoming popular.
Earth tones are popular
because the color schemes stimulate natural beauty and lower heart rate, increase productivity, and make people happier. Apart from soft blues and green, expect to see more caramel and camel colors playing against other colors to form a neutral base for timeless spaces.
We'll see more experimenting with color in coming months, but people appreciate the earth tones because they provide a nice contrast and subtle base. Again, the remote working environment has shifted what people look for in home design. Creating comfortable rooms that manifest good energy and productivity is essential.
The rise of sensory experiences
Not only do consumers want to design a room that looks good, but there is a growing trend to decorate each room with items that create a sensory experience, especially with scent. Different scents can have different effects, with some promoting calm and others a cozy vibe or even enhancing mental acuity.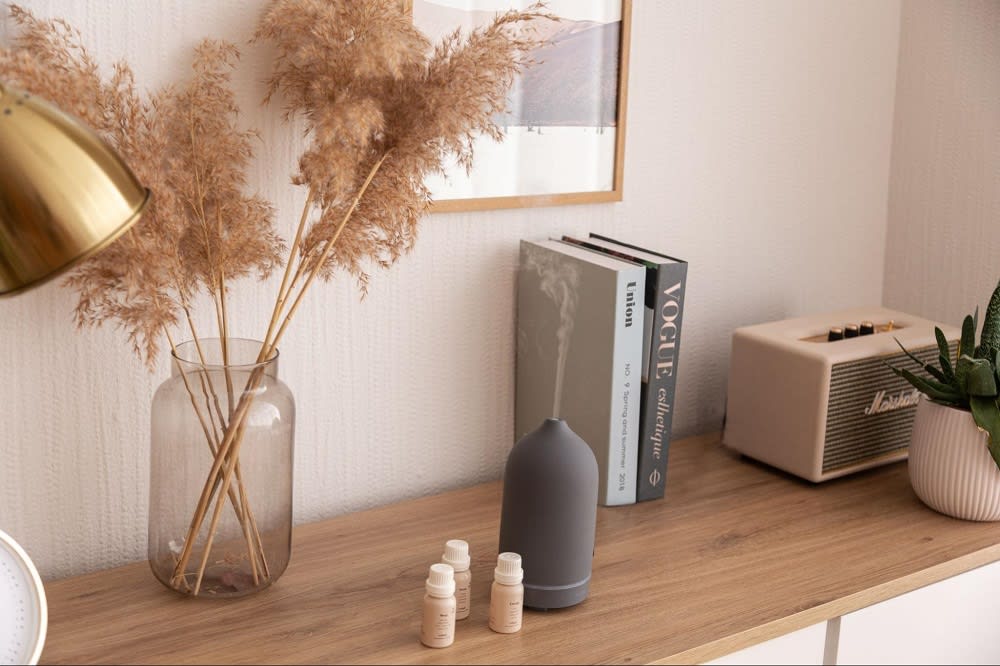 There's something special about working in a room that feels good and stimulates the mind with the proper lighting. But using diffusers and wax warmers is a great way to cultivate a unique smell. When you think about dining in a restaurant, it's about more than just the food. It's about creating a memorable ambiance and overall dining experience. It's similar to designing a room, as homeowners try to find ways to appeal to all five senses.
Modernized "grandmillennial" decor
Back in the day, telling someone that their house reminds someone of their grandparents might not have been a compliment. However, that has changed in recent years as people gravitate toward the mid-century style commonly referred to as "
grandmillennial
." This trend isn't going away anytime soon. It includes ruffled linens, chintz, blue-and-white ceramic items, pleated lampshades, and Victorian furniture.
You might even throw in an eclectic rug or redesign a room with floral wallpaper. The grandmillennial trend will become a little more modernized with accents offsetting office spaces, helping to create a sophisticated, even regal design scheme. Despite its roots in traditional style, grandmillennial is a great way to blend the new with the old.
Dedicated private nooks and spaces
Almost everyone has experienced quarantining or being under lockdown over the past couple of years. Being stuck with your family, no matter how much you might love them, has helped people realize just how valuable privacy is. As pandemic stressors begin to ease, consumers keep note of those feelings, carving out
dedicated private spaces
and meditative nooks to relax, free of disturbances.
Creating a personal space in your home may be easier than you think. Some have done so by adding a floating art wall, hanging a curtain, or putting up an accent wall. If you want to create a meditation spot in your house, you don't need to do much. Use cushions to make it comfortable, experiment with aromatherapy, embrace color, and maybe consider using the outdoors or a place on your patio.
Rounded edges, sculptural, and circular structures
We've seen straight, boxy lines dominating residential architecture, but the latest trend will be rounded edges and curved pieces. Round elements create a playful vibe and attractive spaces you can experiment with by using unique lighting and room arrangements.


Even one or two rounded corners can provide a soft contrast that offsets a room full of strong lines and geometric patterns. Curved shapes and edges read as sensual, smooth, and feminine. They can be inviting and friendly compared to the sharp lines of minimalist schemes. Not only will we see this trend amplified in furniture but also in architecture.
Maximalism
Instead of the minimalism that has been popular with influencers and in modernist design themes and at stores like IKEA, expect to see more striking color contrasts and maximalism moving into fashion. When revamping your space this year, embrace different patterns and interior details. The collective has experienced a rough few years, motivating people to embrace color again to liven up their living space.


Layer colors, objects, patterns, and textures to create an eye-catching fusion that completely alters a room's energy. We're spending more time at home, so people want to live somewhere reflective of their personality.
Bold colors and statement pieces
Color is coming back in a big way. Looking ahead, bright colors and bold patterns are emerging with a grand flourish into the interior design landscape. This year, it's all about brightening up homes with fun colors, patterns, and even statement pieces. Think about repainting the walls in your living room to make the space feel more vibrant and energized. Neutral tones are leaving, and earthy tones are taking their place.


Choose colors that make you feel good and inspire productivity. Let your house reflect your personality. If you like the color blue, think about redesigning a room around your favorite shade. All white spaces are quickly going out of style, so take advantage of the changing trends to add a few splashes of color to your house.
Cozy banquettes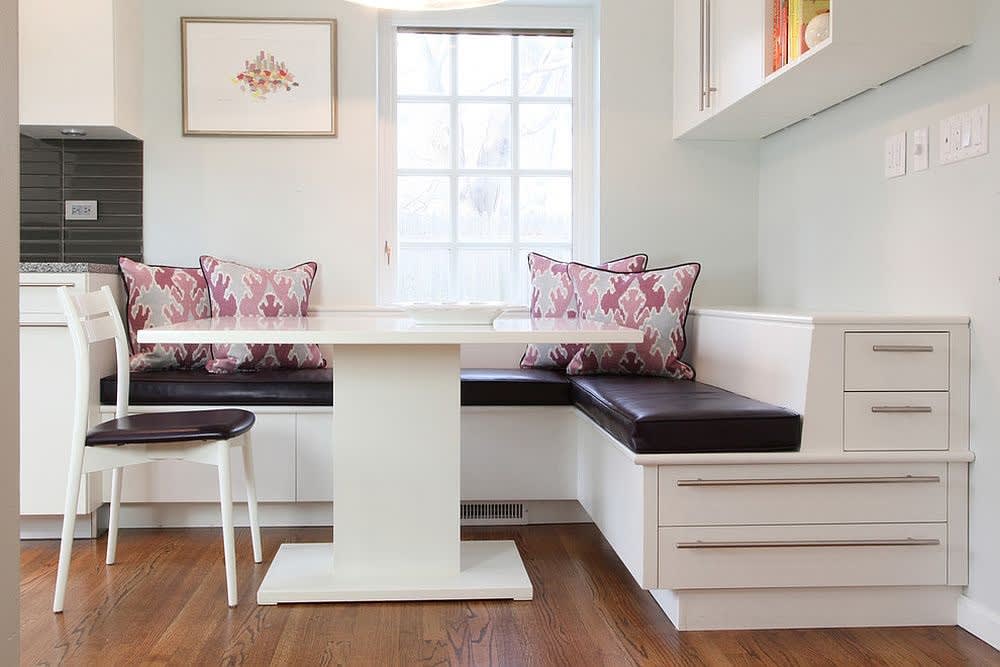 Get the most out of your kitchen corners by adding a
banquette
. Banquettes are a great way to make your kitchen feel cozier and provide a niche for you and your family to gather for meals. They come in all shapes and sizes and work with any kitchen style.
Adding a banquette to your kitchen isn't difficult and will allow you to take advantage of an unused wall or corner. A booth-like banquette could give you a look straight out of a trendy café. Banquettes come in all styles and sizes—long or short, glam or casual, bold or neutral—and customized for any home.


Are you interested in buying or selling a home in Marina del Rey? Perhaps you're seeking more information on El Segundo homes for sale or Los Angeles real estate? Contact
Bill Ruane
today and let his years of experience and expertise help you find your dream home in Southern California!