It's no secret that Southern California is home to some of the best cuisines in the country, and South Bay is no different. Whether you're looking for international fare, American cuisine, or a fine dining experience, South Bay has it all!


Mexican Menus
La Playita by the Sea in Hermosa Beach boasts waterfront views and affordable Mexican food made from scratch with fresh ingredients. This colorful restaurant is a great spot to get some authentic, flavorful Mexican eats. Sip on a fabulous chilled cucumber margarita on the patio for a lunch date or get together with some friends and share your week's events over brunch with a pitcher of guava mimosas. Miguel's Breakfast Enchilada is a fabulous way to start the day, stuffed with scrambled eggs and served smothered in ranchera sauce and melted cheese. Grab an order of guacamole for the table and try the Playita special fajitas grandes, filled with the protein of your choice. This beachside eatery is open from 8:30 AM to 8 PM, so be sure to stop by for the Mexican breakfast dishes served all day.

Hermosa Beach's Palmilla Cocina Y Tequila features home-style Mexican cuisine, premium seafood and beef, top-tier tequilas, and an ocean breeze to boot. This upscale restaurant is elegantly designed and makes you feel like you're dining in an exclusive hotel in Cabo San Lucas. Share a few small plates with friends, like the guacamole trio and savory, melty queso fundido. Tacos are always a favorite, with luxurious options of lobster tail, filet mignon, fried fish or shrimp, and veggies. Traditional Mexican combinations are great options for enchilada lovers and chile relleno connoisseurs. The cocktail menu is teeming with carefully crafted margaritas, mezcal cocktails, sangria, cervezas, vino, and of course, an impressive list of tequilas. For a posh dining experience with salty ocean gusts on the patio, check out Palmilla Cocina Y Tequila.

When stopping in Hawthorne for some Mexican groceries, you'd be surprised to find out that La Chelita Kitchen & Market offers more than just pantry staples. This little marketplace features legit homemade Mexican favorites. Some softshell al pastor tacos will surely fulfill your taco cravings, while a hearty asada torta makes for a filling lunch option. Stop by for your weekly grocery shopping and stay for the huevos con chorizo. You won't be sorry.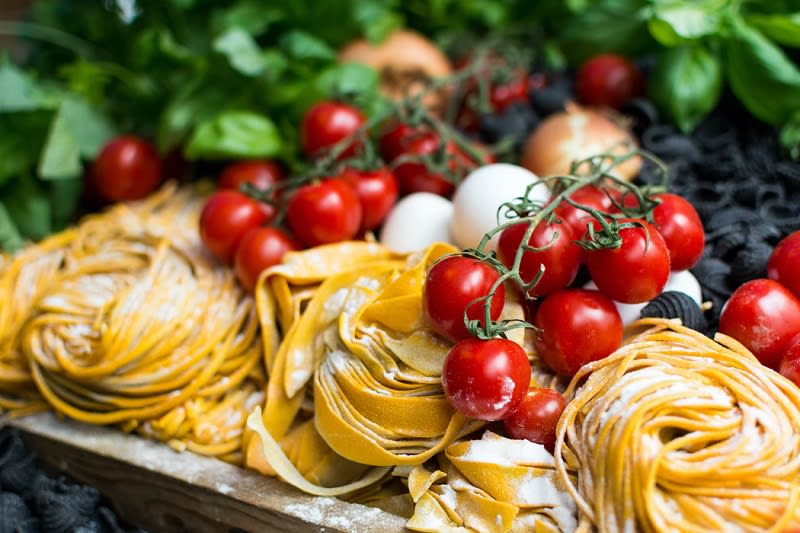 Italian Eats
If you're seeking a tasty New York-style pie, look no further than Brooklyn Brickoven Pizza in Manhattan Beach. This family-owned business offers thin crust, thick crust, Sicilian, and New York-style pizza, all freshly made to order. If you're not craving pizza but looking for a hefty Italian sub, no worries — they've got you covered. Fancy some baked ziti brimming with ricotta, mozzarella, and marinara? They have that, too! Whether you're after a sub, pasta, calzone, or pizza, all of your favorite casual Italian eats can be found at Brooklyn Brickoven Pizza.

Radici in Hermosa Beach offers authentic Italian cuisine in a chic and contemporary setting. Located in proximity to the pier and serving upscale dishes, this restaurant makes for a lovely dinner date or special family occasion. All the pasta is homemade — the fabulous spaghetti pomodoro, spinach, and ricotta ravioli, and penne alla vodka are just a few of the various savory options. Try the grilled king salmon with lemon butter sauce and seasonal vegetables with a glass of crisp pinot grigio and some vanilla panna cotta with fresh berry sauce for dessert. The food is divine, the cocktails are classic, and the intimate vibe will make you yearn to come back for every date night.

Love & Salt offers Manhattan Beach inhabitants an Italian-style menu with coastal California flair. Just steps from the Manhattan Beach pier, an approachable wine list, and fabulous fare make Love & Salt unique. Start your meal with the light and flavorful Hawaiian kampachi crudo, made with cara cara orange, fennel, olive, sea salt, and agrumato lemon olive oil. Follow it up with a savory serving of gnocchi ai funghi, served with Japanese mushrooms, spring onions, and spinach rich with umami flavor. A fabulous display of Italian-American fusion, the whole roasted branzino comes with Umbrian lentils, shaved brussels sprouts, toasted almonds, and preserved lemon. The wood oven pizzas come in creative flavors, including anchovy and fried caper, and spicy soppressata. Classic Nonno's tiramisu, buttered rum pudding, and chocolate peanut butter crunch end the meal on a sweet note. The wine list is lovely, and the cocktails are inventive, matching the fabulous dinner menu of Love & Salt with ease.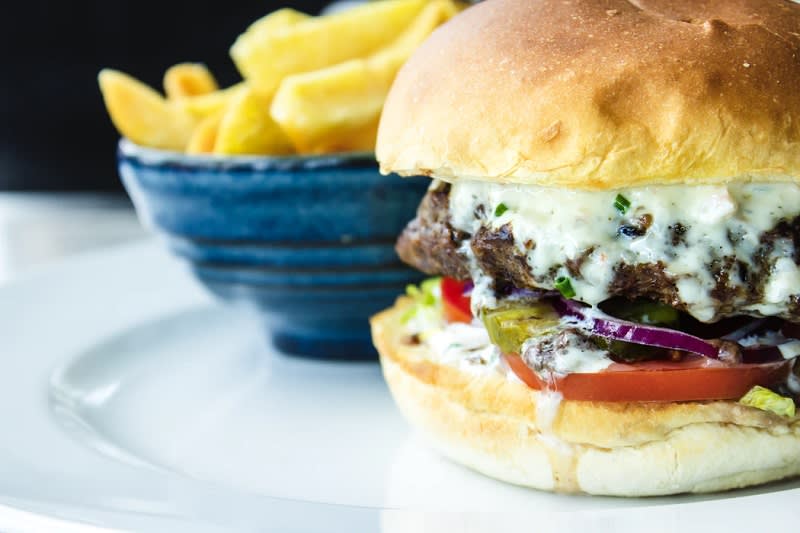 American Bites
Cafe Wild is Manhattan Beach's premier brunch spot. This casual eatery just two blocks from the beach with outdoor seating is treasured by visitors and locals alike. The local gem features a kids' menu and even a menu for your canine companion! Some popular menu items include the full English breakfast, vegan hash, and the Good Vibes Breakfast Burrito. If you're a fitness fanatic seeking a healthy and filling breakfast, grab the Go-Green Burrito, packed with egg whites, asparagus, Tuscan kale, green onion, and mozzarella all wrapped up in a spinach tortilla with a side of breakfast potatoes. If you're looking to indulge, try the almond french toast covered in sliced almonds. Various bowls and salads, including the watermelon salad and ahi poke bowl, are light and tasty lunch options. Relish a family brunch complete with bloody mary pitchers and steamy Americanos at this beachside eatery.

Greenbelt is located at the Hermosa Beach Pier and uses the freshest local farmers' market produce as a base for its phenomenal brunch and dinner menus. Saturday and Sunday brunch feature an eclectic mix of shareable and main courses. Share some brussels sprouts with pickled cranberries and walnuts and a sumptuous pork belly pizza topped with pesto, burrata, grilled pineapple, Fresno chiles, and cilantro. You can't go wrong with the Greenbelt dry-aged burger, made with a house blend of brisket and sirloin and adorned with cheddar, balsamic onions, and horseradish mayo. For dinner, relish a churrasco steak or a plate of farmers' market vegetables. Don't skip dessert — the sticky toffee date cake is served with caramel, vanilla ice cream, and cinnamon for the ultimate decadent treat.

Local Kitchen in Torrance is a tavern boasting craft brews, cocktails, a kids menu, and tasty bar fare. Try the "Big Newport" wedge, featuring applewood smoked bacon, tomato, blue cheese, and balsamic red onions. The ravenous will cherish the Post Ave. patty melt, served with a double patty, grilled onions, double cheddar, and thousand island dressing on grilled parmesan rye. Your youngest will love the Little Locals menu, with childhood favorites like mac & cheese and "Not So Little" chicken fingers. Sip on a Hudson baby sour while you nosh a drive-thru burger at this classic American spot.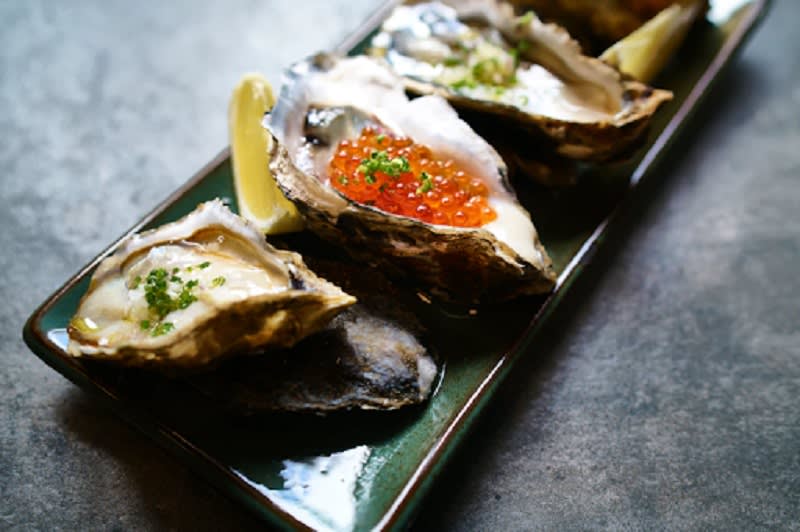 Fine Fare
Get a real taste for the incredible seafood that SoCal has to offer at Manhattan Beach's Fishing With Dynamite. This intimate Michelin star-rated restaurant is known best for its fantastic oyster bar and old-school charm with new-school panache. Raw bar platters are perfect for sharing and include three different options. The Queen Mary comes with oysters, littleneck clams, mussels, lobster, Alaskan king crab, jumbo shrimp cocktail, and assorted sauces for a well-rounded seafood feast. The Maryland blue crab cake is a great way to start the meal, followed by the roasted Tasmanian ocean trout with a slice of key lime pie for dessert. You'll stop by for the fresh fish and stay for the phenomenal service at Fishing With Dynamite.

The Arthur J, located in Manhattan Beach, offers a classic steakhouse vibe with dishes inspired by chef David LeFevre's travels, roots, and top-quality ingredients. Libations offered include creative cocktails, craft beers, and top-tier champagnes. The appetizers include a savory steak tartare of beef sirloin, quail egg, green peppercorns, and rye toast. For a luxurious bite, get the Royal Golden Oscietra caviar, served with buckwheat blinis, creme fraiche, a sieved organic egg, red onions, and chives. The various cuts of beef on offer will appease any red meat connoisseur, from dry-aged Tomahawks to double-cut T-bones, ribeyes, and more. Even your vegetarian and seafood-loving friends can enjoy a fabulous meal, like the whole roasted cauliflower or the miso-glazed Chilean sea bass. The dinner menu is teeming with incredible wood fire-grilled steaks, vegetables, and fish, with an exceptional drink menu to match. For a genuinely upscale dining experience, The Arthur J is simply perfection.

Baran's 2239 in Hermosa Beach offers a relaxed atmosphere where guests revel in the extensive wine and craft beer list and dine on the seasonal dinner menu. The four-course dinner menu changes often depending on local seasonal produce and chef Tyler Gugliotta's culinary visions. The current menu features wild rice and pea salad, Japanese curry potatoes, smoked and fried chicken, yuzu custard, and an optional prime New York steak tartar for an additional cost. The European-inspired menu changes with the PCH ocean breeze, so check the site to keep updated on current offerings.

This collection of culinary gifts is a shortlist of some of South Bay's best. If you want to live near these hot spots in one of the fabulous South Bay communities, contact realtor Bill Ruane. Bill was raised in South Bay and has extensive knowledge of the area. BIll will be a true ally in your search for Culver City real estate, condos for sale in Marina del Rey, or any luxury property available in the South Bay areas he services.