Whether you're in the mood for tacos or Thai, El Segundo has an abundance of restaurants that are sure to satisfy your cravings. Ordering food for delivery is the perfect option for a date night at home or just a regular Thursday night. Plus, ordering delivery enables you to support some of El Segundo's beloved small businesses!

While you're staying safe at home, we've compiled a few of the best El Segundo restaurants that are ready to deliver to your doorstep.
1. Vinny's Pizza
If you're craving some delicious, cheesy pizza, call up to place an order for delivery from Vinny's Pizza! Located on Grand Avenue, this local pizza joint has been a part of the community since opening its doors in 1978. They pride themselves on old-school traditions and top-notch customer service. Every pizza is lovingly hand-tossed with in-house dough that is prepared daily. Vinny's prioritizes using the finest and freshest ingredients. In addition to New York-style pizza, the menu includes pasta, calzones, subs, and sandwiches.
2. Canton Low Restaurant
Instead of cooking dinner after a long day of work, we recommend ordering from Canton Low Restaurant. Located on Main Street, this family-owned and operated business is a cornerstone in the El Segundo community and has been recognized for its outstanding Chinese cuisine. If you need recommendations, the friendly and helpful staff are eager to offer suggestions. The menu puts a modern spin on classic Chinese dishes—all of which are created using fresh, high-quality ingredients. The takeout and delivery options make for a great easy dinner.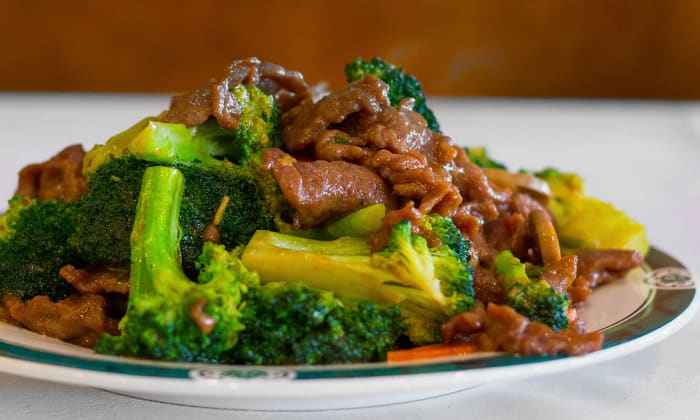 Credit: Postmates
3. Artiso Cafe
While traveling might be temporarily out of the question, Aristo Cafe will make you feel like you're in the Mediterranean! Aristo Cafe, located on Grand Avenue, is a family-owned and operated restaurant. All their dishes are created using fresh ingredients from local markets. In fact, all ingredients are handpicked daily by the cafe's owner to ensure the freshest and high-quality produce and meats. Some of the most popular items on the menu include falafel wraps, gyros, and chicken kabob. Satisfy your sweet tooth by getting some baklava for dessert!
4. Britt's BBQ and Catering
There's little more satisfying than indulging in some delicious barbecue—and thankfully, El Segundo has the perfect option for that! Established in 2009, Britt's BBQ and Catering serves up some of the best barbecue food in town. You can find all the smokehouse favorites at Britt's, including beef brisket, pulled pork, short ribs, and more. The restaurant is open every day for lunch and dinner, while the food truck is often out and about in the city. Plus, the delivery option enables you to have a tasty dinner delivered right to your doorstep!

5. Bread and Butter
If you're not in the mood to venture out for weekend brunch, don't worry—you can have a delicious brunch delivered right to your doorstep! Bread and Butter, located in a hidden plaza along North Pacific Coast Highway, is a local favorite. This charming restaurant serves breakfast, fresh salads, sandwiches, and seafood. In addition to a full breakfast menu, you can also find an assortment of freshly baked goods, including cinnamon rolls, almond croissants, and butter croissants. Bread and Butter has something for everyone!
6. The Original Rinaldi's Deli and Cafe
Heading out for a beach day with your family and need a quick and easy lunch? Tackling some spring cleaning but need to break for lunch? Lucky for you, The Original Rinaldi's Deli and Cafe is ready to deliver wherever you are. Located on Main Street, this El Segundo staple is a straightforward Italian deli that serves both hot and cold sandwiches, pasta, breakfast items, and salads. With so much to offer, it's no surprise that this restaurant received the 2017 small business excellence award! With delicious sandwiches, friendly-customer service, and quick delivery, this is an excellent option for a tasty lunch.
7. Jetta Thai
If you're considering what to order for a quarantine date night, think no further than Jetta Thai. Established in 2014, this authentic Thai restaurant is a staple in El Segundo and operates through pick-up and delivery during the COVID-19 pandemic. Located on Main Street, Jetta Thai is family-owned and operated by a sister duo. The restaurant was created using authentic flavors, family recipes, and a warm environment. Their broad menu encompasses everything from delightful noodle dishes, savory curries, and Jetta Thai signature dishes to desserts. This is the perfect option for a cozy night at home!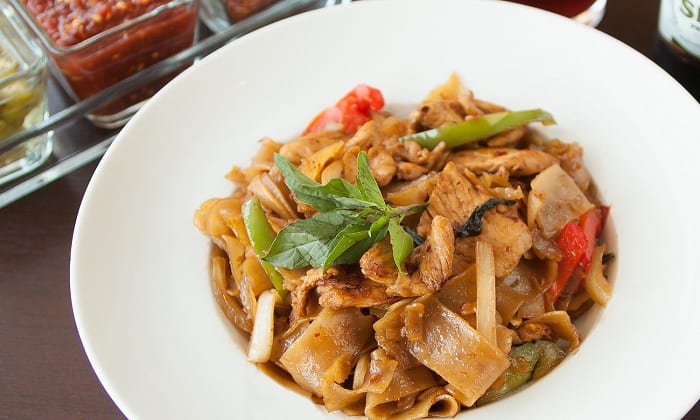 Credit: Postmates
8. Metro Cafe
If you're looking for a healthy option, we suggest checking out Metro Cafe. Located on Grand Avenue, this small chain serves New American-inspired dishes. Metro Cafe uses only sustainable and locally sourced food. Here you can find a wide array of options for breakfast, lunch, dinner, and drinks. The breakfast menu includes a creative assortment of omelets, pancakes, and egg dishes, as well as avocado toast (one of the most popular dishes). Lunch features hamburgers, salads, sandwiches, and soup. Dinner offers soups, pastas, and meat and fish dishes. You can order online and have your meal delivered right to you!
9. North Italia
There's not much more that's more comforting than a big bowl of pasta—and you can experience all that goodness at North Italia! This sleek chain serves upscale Italian dishes, including housemade pizza and pastas, along with wine and cocktails. North Italia values using the highest quality ingredients to make their dishes. Whether you want to get some small platters to share (such as the crispy calamari) or try some fresh pasta or perhaps a salad, there's something for everyone here. If you're gluten-free, there are options for gluten-free pizza crust or pasta, as well as the opportunity to substitute vegetable noodles. From an extensive wine list to local beers, this meal is sure to leave you satisfied. To make it even better, you can have this all delivered to your front door!
10. Ali'l Fish Company
Ali'l Fish Company was established in 2018 with the vision of serving fresh, authentic poke and seafood dishes in California. That vision has been achieved at El Segundo's very own location on Grand Avenue. The owner and his family have been in the fishing industry for generations, so this local gem honors tradition and quality. With decades of seafood experience in hand, this local restaurant serves Hawaiian-style fresh seafood. All of their seafood is sourced from a sustainable, well-managed fishery.

And we're not kidding when we say that the fish is fresh. The fish is bought, filleted, packaged, and shipped in Hawaii before arriving in California the next day to be used immediately. As a customer, you'll be able to taste the difference in quality. The outdoor patio is the perfect spot to enjoy a cool summer evening, or, if you prefer, you can have your meal delivered right to you. Whatever you decide, there's a good chance you'll soon be a familiar face at this spot.
11. El Gringo Mexican Restaurant
El Gringo Mexican Restaurant is the place to go when it comes to Taco Tuesday. Located on Main Street in El Segundo, this local spot serves up some of the best Mexican food in town. This restaurant was established in Hermosa Beach in 1986, and a location finally opened in El Segundo in 2017. Since opening its doors, this restaurant has become a widely popular spot for visitors and locals alike. In addition to an expansive menu, El Gringo is proud to serve a variety of healthy options as well as wines and craft beers. Here you can find everything from salads, street tacos, burritos, and quesadillas. If you're looking for fresh, authentic Mexican food and quality service, this is the spot for you!
12. Veggie Grill
Diet is an essential part of maintaining a healthy lifestyle. When it comes to health-conscious restaurants that deliver, Veggie Grill is a great option. Since it was founded in 2006, Veggie Grill has been passionate about providing the best the plant-based world has to offer. The restaurant features an entirely vegan and vegetarian menu, including items such as the Crispy Cauliflower Bites, Immunity Bowl, and VG Classic. With so much to offer, it's no surprise that Veggie Grill has rapidly become one of the most influential vegan and vegetarian restaurants in the United States.

If you're ready to make the move to South Bay, contact Bill Ruane today. Bill serves a wide range of communities and is one of the top realtors in the area. Whether you are looking at El Segundo homes for sale or Hawthrone luxury homes, Bill's expertise will guide you through the home buying process.