It is well-known that master bedrooms, living rooms, and kitchens are the most impactful areas to stage for the most significant outcome. What can you do about other rooms that people use each day? Other crucial areas of your property can showcase opportunities to potential buyers. Bathrooms are not to be overlooked, office spaces can add appeal, multi-purpose rooms with focal points are enticing, and children's rooms are critical in single-family homes. Utilizing the space to the best of your abilities will add tremendous value to your home, entice potential buyers, and get your property off the market swiftly.
Office Space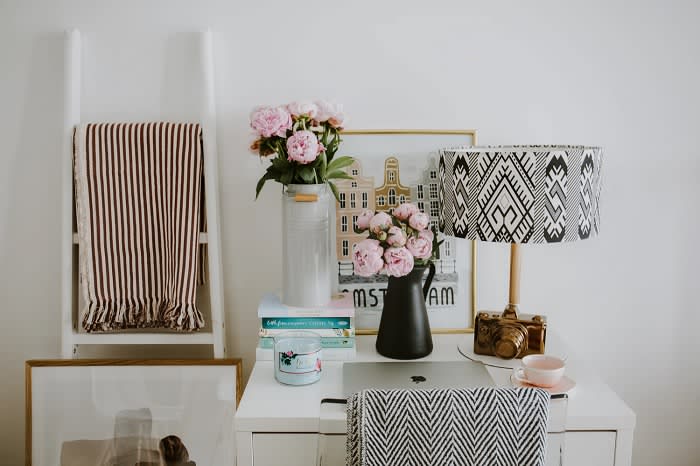 Staging your home office can be a great way to show off what your property has to offer potential buyers. This project doesn't take too much work or money, and with a bit of finesse, it can be a genuinely appealing area that draws the buyer's attention. Below are some quick and affordable ways to make your office space inviting and help buyers envision a charming and productive room in their new home.
◾ Storage: Organization is a vital task in making your life easier and staging your office. Throw out old credit card statements and pay stubs that are older than one year. Bills, deposits, and withdrawal records should only be one month old. Tax returns and significant financial records should be stored permanently. A stylish filing cabinet can stow away all these essential documents, so a buyer doesn't see a ton of papers strewn about your office space. Here are some great filing cabinets that are pragmatic and chic, adding utility and style to the area. Going paperless for credit statements and paying bills online are other great ways to save you space and the headache of organizing your essential documents. These suggestions help the buyer visualize a cleaner, organized office and help you get your documents systematized. Everybody wins.
◾ Declutter: A desk organizer is a great tool to store post-it notes, pens, scissors, and other supplies used daily. Only showcase a computer and a printer, but put away all the other gadgets that aren't essential to an office. Utilizing black zip ties to organize cords can remove unsightly messes. Personal items should be put away so that the potential buyer can picture their belongings in the space. Focus on showcasing important furniture only, such as a desk, a stylish chair instead of a massive rolling office chair, and remove unnecessary furnishings to create a larger space for staging.
◾ Design: Adding a few houseplants can brighten up the space, and adding an accent rug or two can add warmth and a homey feel. Mirrors add light and make a room appear more spacious.
◾ A neutral color scheme of beiges, whites, soft grays, greens, or blues is an excellent choice for keeping the space classy and clean. Ambient lighting and a desk lamp are vital to round out the office.
Bathroom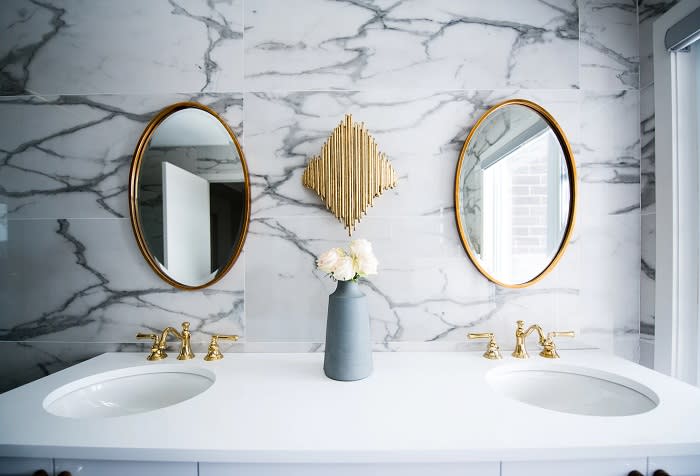 The bathroom is more than a place where we brush our teeth and bathe; it can be a comforting and calming space to unwind from our troubles. Buyers want to see the bathroom as just this, a place of tranquility and relaxation. Here are some uncomplicated ways to achieve a beautiful and inviting bathroom.
◾ Declutter: Remove all your toiletries, hair ties, hair spray, jewelry, etc. A clear countertop lends to clear mental space. You can leave a tissue box out if it's in good shape. Put it on a shelf, cabinet, or corner of the counter. Toilet paper on a holder is fine to leave but store extra rolls somewhere out of sight. Without your care products everywhere, buyers can imagine their personal belongings in these spaces.
◾ Clean: Clean and disinfect the countertop, floor, shower, toilet, everything from top-to-bottom. A clean space will be easier to stage and will also appeal to potential buyers. If your grout or calk isn't looking its best, it's an easy and inexpensive venture to purchase products to spruce these areas up.
◾ Design: Remove bath mats and toilet covers as they tend to look uncleanly. Suppose the bathroom floor is lovely, no need to cover it up. If you want to add comfort and cover less-than-ideal flooring, opt for a stylish area rug. Updating hardware to create a unified theme can yield great impressions, and Amazon has many affordable options. Lighting is essential, and functionality should be the focus, though style need not be ignored. Add some fresh, newly purchased towels that match the bathroom's decor. Plants and accent pieces like charming side tables with candles and a book make for an inviting space. Oil-reed diffusers add fragrance and an elegant look.
Flex Space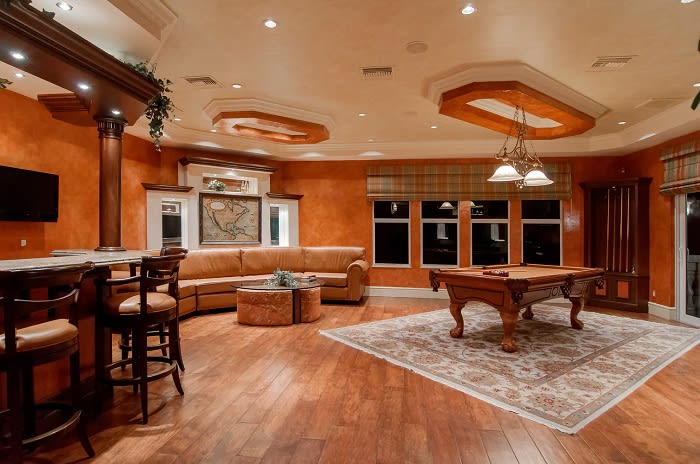 A flex space, also known as a multi-purpose room, can serve whatever function the homeowner sees fit. Staging that extra space doesn't have to be overwhelming and challenging. Choosing a role and committing to styling it is key to creating a space that potential buyers will love. Your flex room can become a gym, hobby room, yoga studio, library, entertainment space, playroom, or guest bedroom. Whatever air you're portraying throughout the property will elicit the staging of the multi-purpose room. When it comes to luxury homes, the options are endless. Below is a breakdown of how to stage a few room options to utilize your bonus alcove best.
◾ Hobby room: Adding an easel and side table with a palette and a few paints, a calendar, or perhaps a wall organizer to store scissors, measuring tape, and other tools for crafting creates a cohesive craft room. A media room is a terrific option for large rooms. It can feature dark painted walls, concealed speakers and wires, a small beverage refrigerator, comfortable seating with bordering LED lights, and perhaps a slideshow of the neighborhood. Serving some fresh popcorn at the viewing will pull it all together. These are just a couple of ideas for staging a hobby room that can add a lot of value to the home.
◾ Home gym: Fitness rooms are highly sought after in luxury properties. Besides the workout equipment, adding a stereo, some pleasant fragrance, and art can create an appealing space that a buyer could see themselves enjoying.
◾ Library: Depending on the amount of space, adding a cozy armchair or loveseat, a modern bookshelf, perhaps a couple of paintings or prints, and some planters can create a snug area where potential buyers can imagine themselves sipping some hot tea, cuddled up with a good book.
Children's Room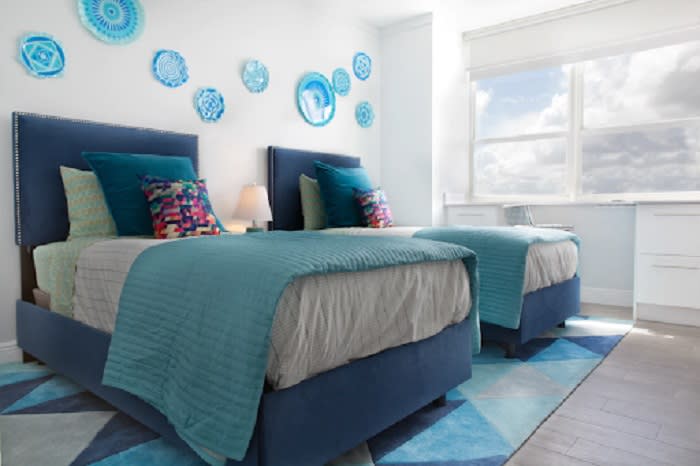 When staging a grand and affluent property, the children's room is an important area that need not be forgotten. Single-family homes with plenty of space to work with require thinking about how a potential buyer will utilize the bedrooms. People want to imagine growing their family and creating beautiful memories, and what better way to elicit a positive reaction than staging a children's room? Here are some tips and tricks to creating a children's space that will leave a possible buyer with warm, fuzzy feelings and ready to buy their family the home of their dreams.
◾ Declutter: Store any toys, books, sports equipment, photos, and childhood doodads in cabinets or storage spaces. You want the impression of a clear and open area where buyers can masterfully plan the room as they see fit.
◾ Keep themes out: Creating a mermaid, pirate, or any particular theme can alienate buyers. You want the room to be comfortable and not gimmicky. If the potential buyer doesn't have children, you want it to be seen interchangeably as a guest room.
◾ Gender-neutral: You want the space to be accessible to any child, regardless of gender. Don't add pink ruffles or adorn the room with race cars. Create a room that appeals to people of any age or gender. Painted walls should be a neutral color and cohesive with the rest of your home.
◾ De-personalize: I'm sure you love the finger painting your kid did in kindergarten, but you should remove it along with any personal photos so that potential buyers don't get distracted by the current homeowner's life. Along with photos, remove any awards, certificates, artwork, or anything with a personal nature. Don't forget to remove your children's names, whether on plaques, wall decals, etc., for safety and allowing the buyer to envision the room as they please.
There are many ways to utilize the sizable space in your luxury property to create an impact that will elicit optimal results. Showcasing these rooms can add tremendous value to your home and ensure it is snatched up quickly.

When you're ready to stage and sell your luxury South Bay property for its highest possible value, contact me. My expertise and attention to detail will ensure a smooth and optimal real estate transaction. I hail from the South Bay and specialize in Hollyglen, Del Aire, Hawthorne, Westchester, Culver City, Marina del Rey, Playa del Rey, and El Segundo real estate. Whether you're looking for that Hawthorne house for sale or are ready to sell it to a lucky buyer, I'll lead you every step of the way.